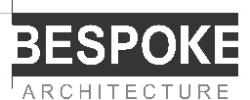 Bespoke Architecture Ltd
Location

Canterbury

Category

Architectural Designer

Specialties

Website
Bespoke Architecture is a South Island based design company.
Our passion is to create homes and commercial properties which reflect your tastes and needs while relating harmoniously with the environment it sits in.
We are a team of highly qualified designers who want to make a difference to Canterbury and New Zealand. We are passionate about fulfilling dreams, making great buildings and improving peoples lives. Buildings are such an important part of our world and we take the responsibility of working to enhance our environment very seriously.
New homes, commercial, alterations, additions, interior design and project management – we do the lot. 
We can create you a home that you will love and complement the way you live. We'll remove the constraints of budget and site with creative solutions. From restrictive urban sections to steep sites or rural properties, we craft designs influenced by your aspirations, desires and the environment in which it all takes place. The individuality of you and your site requires unique and personalised designs which reflect that individuality. We listen; attend to your requirements and aspirations. We don't dictate the design – you do; we need your full participation in the process to bring your desires to a tangible conclusion. 
Our Showhomes