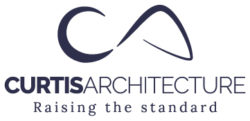 Curtis Architecture
Location

Canterbury

Category

Architectural Designer

Established

2017

Specialties

Architectural
Design & Build

Website
Curtis Architecture is a fresh up and coming practice, with the aim of a new, forward thinking and innovative approach to architectural design in the residential sector.

We pride ourselves on our ability to build long term working relationships with builders and developers, all striving to break the mould of standard residential housing across the country.
Curtis Architecture is a small, friendly, family run practice formed on the ideals of creating simplicity in architecture.
Designing your dream home is our passion.
We are upfront and honest with our fees before you engage us and start the design process.
At Curtis Architecture, we believe forming great relationships with builders is vital in producing an exceptional home.
We specialise in residential architecture from small renovations through to large new homes. We work to your budget whether large or small.
Trust and relationships are important to us. We understand the design process can be daunting for some people. Let us make this easy for you.